Objectives
Our entire business approach is centered on enhancing our valuable customer's brand image, as we do not sell in retail and we don't have our own brand. Customer's satisfaction is of utmost priority to us, for maintaining a long term satisfied customer base, we practice the following steps to the core:
Follow stringent quality control procedures to provide only flawless products to the customers
Offer the products at cost effective prices, within the budget of the customer
Ensure timely delivery schedule.
Give foremost importance to customer feedback and suggestions for further improvement
Design products as per the latest / prevalent trends.
Quality Assurance
Quality forms the focal point of our manufacturing practice at Kangaroo Leather Pvt. Ltd. Intensive quality checks form the backbone of our manufacturing operation. From the very first stage of raw materials selection of finished leather till their ultimate delivery, no stone is left unturned to maintain the highest standards of quality. Every process from tanning, processing to finishing of the leather products is done under the tight supervision of expert quality control inspectors.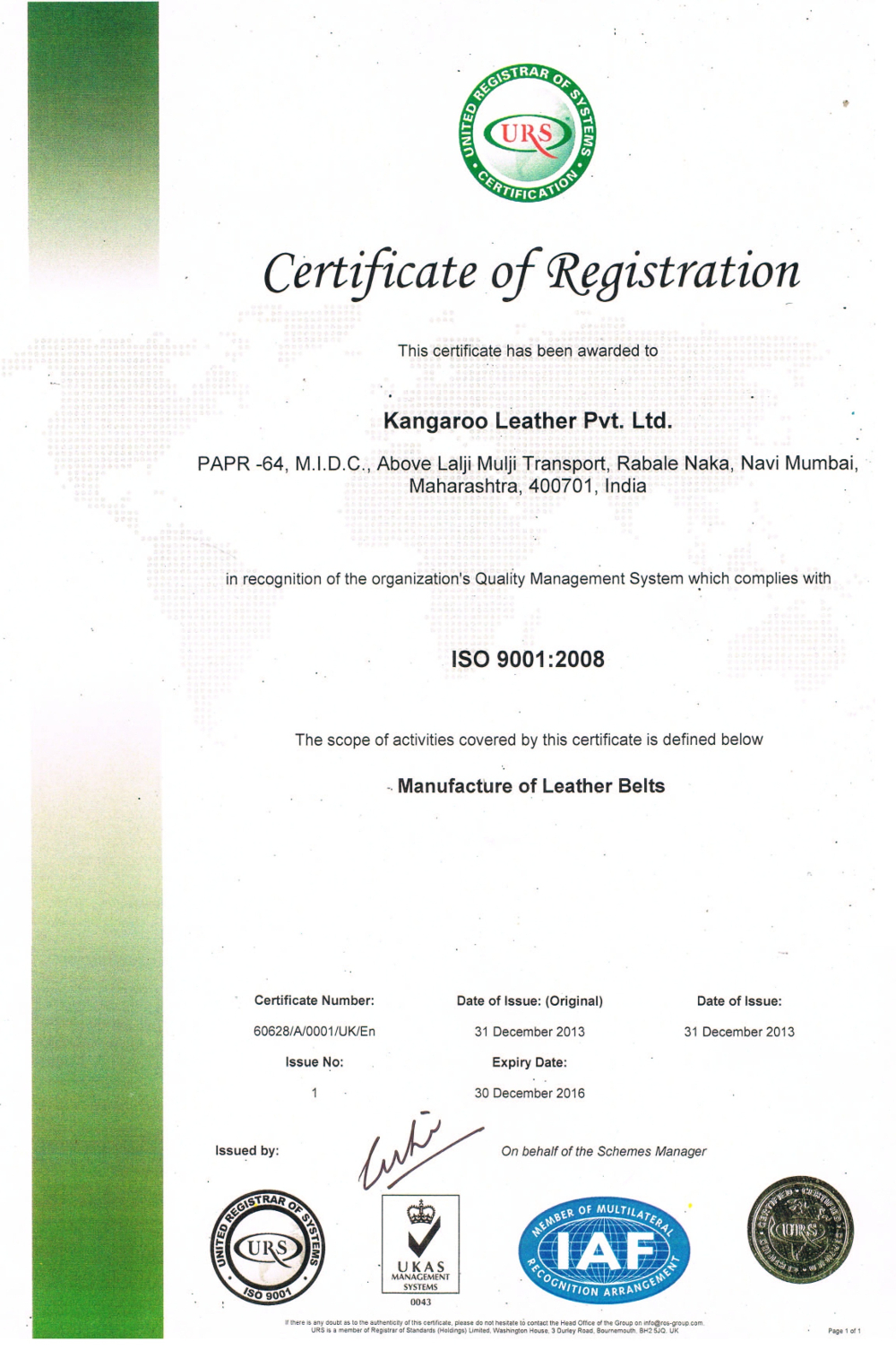 Our Team
The team of designers working for us is comprised of genuine masters of creativity and well etched imagination. They work in close coordination with the customers to manufacturer products which reflect their demands and aspirations. They always keep themselves updated with the recent trends of the discipline in order to be pioneers in innovation and trend setting creations.
Our Strengths
Supported by an arsenal of tech-rich machines and two capacious production units, Kangaroo Leather effortlessly produces 75,000 leather belts on a monthly basis. These machines are built on the latest technology and therefore, require minimal maintenance. A sound management system contributes to a successful execution of all the orders. The warehouse, with its vast holding capacity enables us to hold huge stocks and thus, meet all kinds of market demands.
Packaging
Packaging forms a very important part of post production process at Kangaroo Leather. Attractive and strong boxes are used to pack these products. Master boxes and cartons are used for the purpose, so that these products remain intact and undamaged while in transit.